Surrey carpet, curtain
& upholstery cleaning services
Apple Clean are the Surrey carpet, curtain and upholstery cleaning specialists. For more than 20 years, we've been providing expert carpet, curtain and upholstery cleaning in Surrey. If you need high-quality domestic and commercial stain removal or carpet, upholstery or in-situ curtain cleaning in Surrey, Contact Apple Clean for a professional, personal service.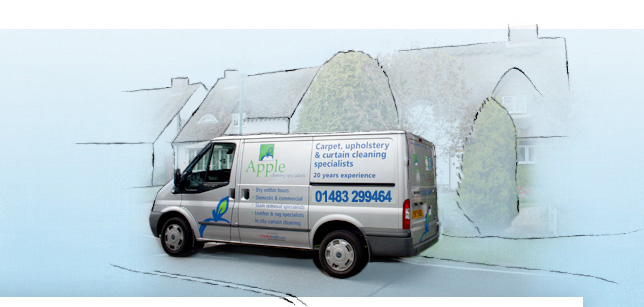 Give Jonathan a call

Hi, I'm Jonathan and for over 25 years I've been supplying carpet, curtain and many other cleaning services to homes and businesses in and around Surrey. My beliefs have always been that the best way to success with a local business is to offer an exceptional service which is both professional and personal, giving great customer service and achieving excellent results. Give me a call today and I'll explain what we can do for you and I'll give you honest and realistic advice. At the same time you can get an instant no-obligation quote.
What our customers are saying…
Cleaning services. – Combined Score: 10 out of 10

"Daniel arrived dead on time, I found him friendly, and very professional."

Customer in Haslemere

Carpet cleaning – three rooms, ground floor. – Combined Score: 10 out of 10

"I would recommend this company."

Customer in Emsworth

Carpets cleaned and deodorized. – Combined Score: 10 out of 10

"Excellent!"

Customer in Redhill

Cleaned carpet in boot of car – paint sullage. – Combined Score: 10 out of 10

"Excellent ,friendly service and did a great job . Really pleased . Thank you."

Customer in Woking

Clean 2 x 3 seater settees, 1 lounge pouffe and clean carpet – Combined Score: 10 out of 10

"Excellent in every way."

Customer in Farnham
Why Choose Apple Clean?
Safe, Gentle & Environmentally Friendly Products
Chemspec Approved Stain Removal Specialists
Furniture is Protected & Moved with Care
Carpet, Curtain, Leather & Upholstery Cleaning
Get a FREE quote today!
Request a no-obligation free quotation from Jonathan
Call us on 01483 299 464 or complete the form below:
We trade on our reputation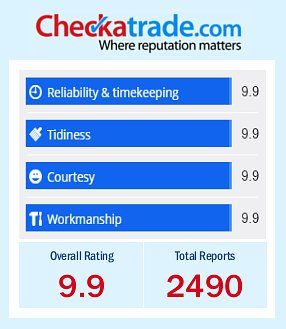 We are very proud members of the Check-a-trade scheme as it enables you to see certified and genuine reviews from past customers in and around Surrey.
You can also use it to provide your feedback. We have over 2400 reviews and an average score of 9.9 out of 10!
Find out more about Checkatrade >>
Give us a call us now on 01483 299 464 to find out more about the cleaning services we provide to homes across Surrey and how we can help you.
My promise to you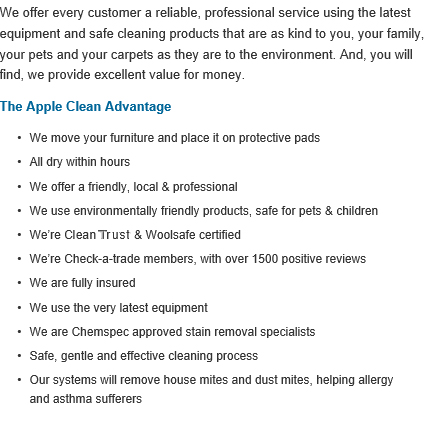 Cleaning services in Surrey
For over 20 years Surrey has benefited from Apple Clean's exceptional standard of specialised fabric cleaning. We have gained and continue to improve on a magnificent reputation within Surrey and its surrounding areas. We provide the highest possible domestic and commercial carpet cleaning, stain removal, in-situ curtain cleaning and specialist fabric cleaning services in Surrey. If you are in need of a specialist and require professional fabric cleaning advice or treatment, we are more than qualified to provide for you and welcome any potential enquiries.
Many people will attempt to remove a tough stain or seemingly permanent marks themselves and ultimately cause further damage to their fabrics and furniture items. Using the incorrect cleaning solutions will only make your job increasingly frustrating. On the other hand, Apple Clean can provide you with all the specialist information and service that you need to get rid of difficult marks and stains on your various fabrics. We use the latest technology to remove stains and specialize in keeping carpets looking brand new. Our highly trained operatives will carry out the work for you, leaving your home or work place feeling refreshed.
The treatment process for our client's carpets, curtains and fabrics involves careful consideration, precision, a high level of skill and the efficiency to provide the best results at the end of the job. The process of removing dirt marks or stains from floors and furniture is a delicate process; therefore our highly trained operatives will work with extreme care to avoid damaging any surrounding fabrics. In addition, we use a contemporary solution that prevents further damage in the future, resulting in a long lasting, healthy-looking home or workplace.
It is extremely important that your work or home environment is free from hidden allergens and dust particles as this can lead to a potentially unhealthy atmosphere. Therefore, we encourage clients who feel their fabrics may be damaging their domestic or commercial environment to get in touch with Apple Clean. Our specialists are capable of leaving your local atmosphere feeling much safer with regards to hidden allergens.
Since we first started offering our services to clients in Surrey we have taken great pride in providing the best services to significantly improve specialized carpet, curtain and fabric cleanliness. We continue to receive amicable ratings from our clients and have since become one of the highest rated cleaning companies on Checkatrade. If you are located within the Surrey region and require a specialist fabric cleaning service, get in touch with Jonathon to receive a quotation free of charge today.
Call the professionals!
Give me a call to find out how we can help you.
Phone 01483 299 464
We're able to offer instant quotes for all carpet, upholstery and in-situ curtain cleaning or for any of our other services, no matter how big or small. So whether you've got a small stain or need your home or place of work cleaned, we can help.
If you're not sure what the problem is, why not send us a picture via email and let a professional take a look at it? In twenty years, we've seen pretty much everything! We offer free advice and expertise over the phone, so give us a call or fill out the form and we'll call you right back.
Towns and areas we cover
We also cover all surrounding areas.
Opening Hours:
Monday: 8:00 a.m. – 8:00 p.m.
Tuesday: 8:00 a.m. – 8:00 p.m.
Wednesday: 8:00 a.m. – 8:00 p.m.
Thursday: 8:00 a.m. – 8:00 p.m.
Friday: 8:00 a.m. – 8:00 p.m.
Saturday: 8:00 a.m. – 8:00 p.m.
Sunday: 8:00 a.m. – 8:00 p.m.