Dorset carpet, curtain
& upholstery cleaning services
Apple Clean are carpet, curtain and upholstery cleaning experts with over 20 years experience in providing a wide range of services around Dorset. If your carpets and upholstery are in need of a professional and reliable cleaner then contact Apple Clean for an unbeatable service.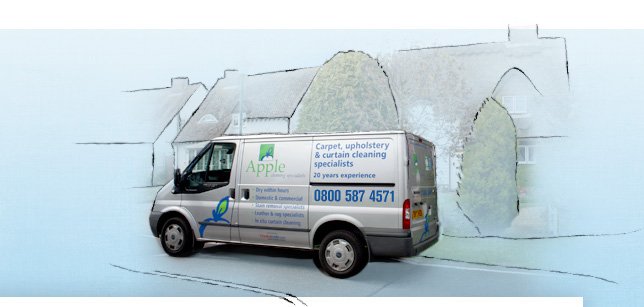 Give Jonathan a call

Hi, I'm Jonathan and for over 25 years I've been supplying carpet, curtain and many other cleaning services to homes and businesses in and around Dorset. My beliefs have always been that the best way to success with a local business is to offer an exceptional service which is both professional and personal, giving great customer service and achieving excellent results. Give me a call today and I'll explain what we can do for you and I'll give you honest and realistic advice. At the same time you can get an instant no-obligation quote.
What our customers are saying…
3 piece suite and bathroom and hall carpets cleaned – Combined Score: 10 out of 10


"He has worked very thoroughly to an extremely high standard and we are very pleased with the result."
Customer in Brighton

All carpets in flat cleaned – Combined Score: 10 out of 10


"The carpets were very well cleaned. The arrival time was prompt, the engineer was polite and unobtrusive and patient to explain any questions!"
Customer in Brighton

Carpets cleaned, lounge hall and 2 bedroom tracks – Combined Score: 10 out of 10


"The carpets are wonderfully clean – all stains removed. A marvellous job – thank you."
Customer in Brighton

Carpets cleaned – Combined Score: 10 out of 10


"Great work again by Gary (last time it was our curtains steam cleaned. Removed all stains from our light coloured carpets and brought them up as new! We wouldn't go anywhere else."
Customer in Brighton
Why Choose Apple Clean?
Safe, Gentle & Environmentally Friendly Products
Chemspec Approved Stain Removal Specialists
Furniture is Protected & Moved with Care
Carpet, Curtain, Leather & Upholstery Cleaning
Get a FREE quote today!
Request a no-obligation free quotation from Jonathan
Call us on 0800 587 4571 or complete the form below: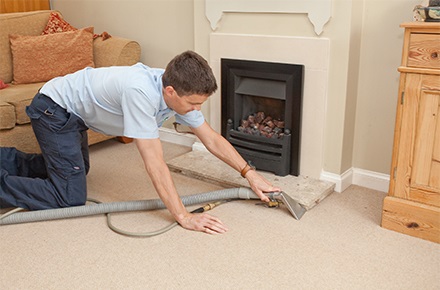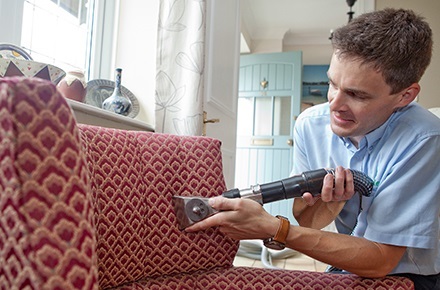 We trade on our reputation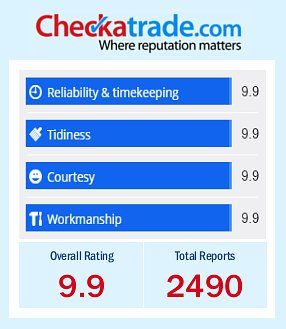 We are very proud members of the Check-a-trade scheme as it enables you to see certified and genuine reviews from past customers in and around Dorset.
You can also use it to provide your feedback. We have over 2400 reviews and an average score of 9.9 out of 10!
Find out more about Checkatrade >>
Give us a call us now on 0800 587 4571 to find out more about the cleaning services we provide to homes across Dorset and how we can help you.
My promise to you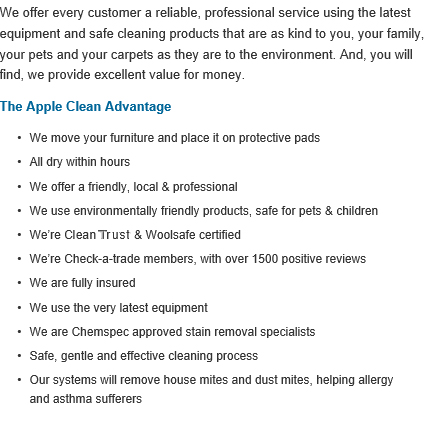 Cleaning services in Dorset
Apple Clean remain intent on providing the highest level of professional service to our clients across Dorset and its surrounding areas. We continue to provide exemplary service and expert advice to businesses and homeowners throughout East Sussex. We are very highly regarded on Checkatrade and continue to achieve a high level of positive feedback from our clients. If you feel you are in need of specialist aid or advice regarding fabric cleaning at your home or business, we would be delighted to follow up your enquiry.
Removing a stain from your carpet, ridding your fabric of dirt marks or disposing of dust build-up in your home or offices can become exceedingly tedious and generally lead to a frustrating time for our clients. The possibility of inflicting further damage to your fabrics or furniture can increase if you end up using cleaning products that prove ineffective on the toughest of stains. Fortunately, our specialist cleaning methods are carried out with the latest high-tech cleaning equipment that provides exceptional results. We specialise in carpet cleaning thanks to this of the latest high-tech industrial equipment and also provide highly effective services in stain removal, in-situ curtain cleaning and specialist fabric cleaning.
Other Local towns we cover
Opening Hours:
Monday: 8:00 a.m. – 8:00 p.m.
Tuesday: 8:00 a.m. – 8:00 p.m.
Wednesday: 8:00 a.m. – 8:00 p.m.
Thursday: 8:00 a.m. – 8:00 p.m.
Friday: 8:00 a.m. – 8:00 p.m.
Saturday: 8:00 a.m. – 8:00 p.m.
Sunday: 8:00 a.m. – 8:00 p.m.