Carpet, curtain and upholstery
Cleaning by the Apple Clean professionals
We offer a wide range of carpet, curtain, fabric and other upholstery cleaning services, ranging from small stains to carpet cleaning and commercial cleaning projects such as hotels and offices. And all dry within hours! We're a small company, but we do have the latest and best equipment available and cleaning products able to tackle even the biggest of jobs, making us a great choice for people in West Sussex, East Sussex, Surrey and Hampshire looking for a professional cleaning service with a personal touch.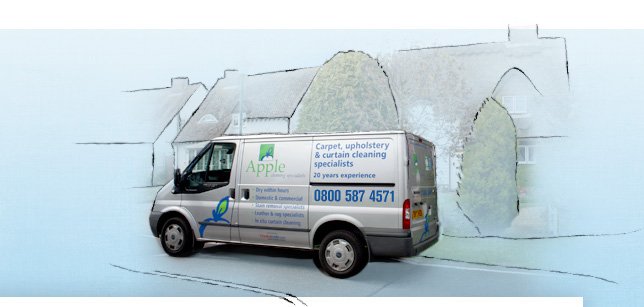 Our services
Call the professionals!
Give me a call to find out how we can help you.
Freephone 0800 587 4571
We're able to offer instant quotes for all carpet, upholstery and in-situ curtain cleaning or for any of our other services, no matter how big or small. So whether you've got a small stain or need your home or place of work cleaned, we can help.
If you're not sure what the problem is, why not send us a picture via email and let a professional take a look at it? In twenty years, we've seen pretty much everything! We offer free advice and expertise over the phone, so give us a call or fill out the form and we'll call you right back.
We're always here to help
All carpets are cleaned & sanitised leaving you with a fresh, clean, hygienic & healthy home. Call the friendly, local company you can trust.
No job too big, no job too small – we can help you right away.
We're here to help if you've had an accident or spillage that needs urgent attention. But we're also here to put life back into your old carpets, freshening them, removing dirt and dust and harmful bacteria, making your home a better place to live in and making your carpets and fabrics last longer.
End of tenancy
We offer a specialist in-situ service for tenants cleaning carpets and curtains prior to moving out, as well as special rates for letting agents requiring our cleaning services on a regular basis. We're always ready to help, give Jonathan a call or get in touch for more details.
Why hire a professional carpet cleaner?
You could spend hours of frustration trying to do the job yourself, spending quite a bit of money and getting poor results. Over the counter cleaning solutions typically result in low success rates at removing stains, colour run, permanent colour changes, wet carpets and residues being left behind. Worst of all, it's a lot of hard work! Call us and save yourself the time, money and hassle. We're friendly and professional, using the latest equipment and products. We perform all cleaning in-situ, your carpets will be left slightly damp and can be walked on as soon as we are finished.
Choosing a professional carpet cleaner is surprisingly cost effective and certainly provides superior results.
We also provide
✔
Mattress cleaning
✔
Flood damage control
✔
Car interior fabric cleaning
✔
Fire retardant treatment
✔
Anti-static treatment
✔
Allergy control
✔
Dust mite and flea control
Areas we currently cover