In-situ curtain cleaning
Goodbye unwanted dust and odours
Whether you live in the town or in the country, one thing is for sure: your curtains are going to end up catching whatever's in the air. Acting a bit like an air filter, your curtains catch airborne dust and associated odours, building up in a surprisingly short space of time. So whatever's in the air is in your curtains. Isn't it time you had them cleaned?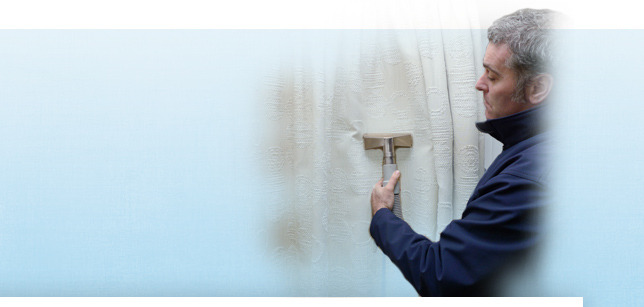 What makes us different?
We can clean your curtains and blinds in-situ, without the fuss of taking them down and re-hanging them. In fact, we can cover your whole house, or business, at a competitive rate that's less than the cost of most dry cleaners. Whether you're in East Sussex, West Sussex, Hampshire or Surrey, and you're looking for a blind cleaning or curtain cleaning company for all your blinds and curtains or it's just one set that needs attention, we will be pleased to take care of it for you. No job is ever too big or too small so please call for a free no-obligation estimate. Please also view our commercial curtain cleaning page for details on our curtain cleaning services for business.
How do we clean your curtains?
We pre-test your fabrics to determine the most effective cleaning products for your curtains, then thoroughly clean both the front and linings of your curtains including pelmets, swags and tails.
We're able to clean curtains without taking them down
We can clean curtains of practically any size, including commercial curtain cleaning in offices, hotels, theatres and all other commercial premises
We can clean thermally lined curtains
We're even able to flame-proof your curtains to British standards, just in case!
What our customers are saying…
Lounge, hall, stairs and landing cleaned. Combined score: 10 out of 10


"I am a pensioner unable to do much house work, well I took my siesta, when I woke I was amazed my carpets and curtains were like new, well done."

Customer in Steyning
We specialise in cleaning:
Blinds
Interlined Curtains
Thermally Lined Curtains
Stage Curtains
Theatre Curtains
Large Commercial Curtains
Pelmets
Flame Proofing
We offer in-situ curtain and blind cleaning of anything from large theatrical curtains, thermally lined curtains to hotel bedroom curtains and blinds of all varieties, all cleaned effectively in-situ with no drying time, saving you time and money.
We have established contracts with many hotels, schools, restaurants, pubs and other businesses across West Sussex, East Sussex, Hampshire and Surrey, who are all ready to provide glowing references.
Get a FREE quote today!
Request a no-obligation free quotation from Jonathan:
Call the professionals!
Give me a call to find out how we can help you.
Freephone 0800 587 4571
We're able to offer instant quotes for all carpet, upholstery and in-situ curtain cleaning and blind cleaning or for any of our other services, no matter how big or small. So whether you've got a small stain or need your home or place of work cleaned, we can help.
If you're not sure what the problem is, why not send us a picture via email and let a professional take a look at it? In twenty years, we've seen pretty much everything! We offer free advice and expertise over the phone, so give us a call or fill out the form and we'll call you right back.
We trade on our reputation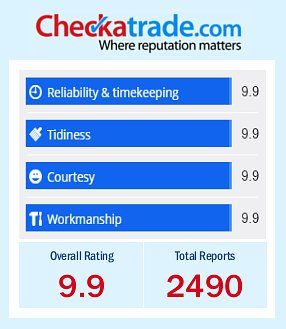 We are very proud members of the Check-a-trade scheme as it enables you to see certified and genuine reviews from past customers in and around Brighton.
You can also use it to provide your feedback. We have over 2400 reviews and an average score of 9.9 out of 10!