Richmond carpet, curtain and
upholstery cleaning services
Apple Clean are the Richmond carpet, curtain and upholstery cleaning experts. Local for over 25 years, we provide high-quality carpet, curtain and upholstery cleaning services in Richmond and across Surrey.
For professional domestic and commercial stain removal or carpet, upholstery or in-situ curtain cleaning in Richmond, get in touch with Apple Clean for an unbeatable personal service.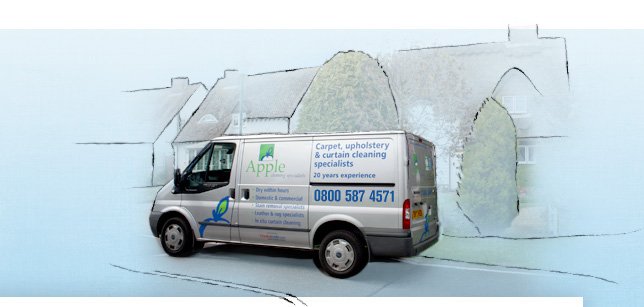 Give Jonathan a call

Hi, I'm Jonathan and for over 25 years I've been supplying carpet, curtain and many other cleaning services to homes and businesses in and around Richmond. My beliefs have always been that the best way to success with a local business is to offer an exceptional service which is both professional and personal, giving great customer service and achieving excellent results. Give me a call today and I'll explain what we can do for you and I'll give you honest and realistic advice. At the same time you can get an instant no-obligation quote.
What our customers are saying…
Lounge / diner – stairs and hall. – Combined Score: 10 out of 10

"Excellent – minimum fuss, carpets cleaned best ever and was on his own."

Customer in Surrey

Clear 2 stairs and lounge carpet. – Combined Score: 10 out of 10

"Arrived on time as stated. Called day before to confirm. Very pleasant gentleman, tidy and clean."

Customer in Woking

Carpet cleaning. – Combined Score: 10 out of 10

"Excellent service, Alan could not have been more polite and did a fantastic job."

Repeat customer in Guildford

3 and a 2 seater, lounge and hall. – Combined Score: 10 out of 10

"Excellent workmanship and very pleasant men."

Customer in Woking

Leather sofa cleaning. – Combined Score: 10 out of 10

"Very efficient work completed to high standard advice offered to ensure sofa remained cleaner for longer. I would recommend this company."

Customer in Camberley
Why Choose Apple Clean?
Safe, Gentle & Environmentally Friendly Products
Chemspec Approved Stain Removal Specialists
Furniture is Protected & Moved with Care
Carpet, Curtain, Leather & Upholstery Cleaning
Get a FREE quote today!
Request a no-obligation free quotation from Jonathan
Call us on 0800 587 4571 or complete the form below: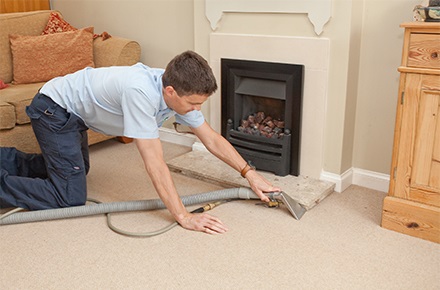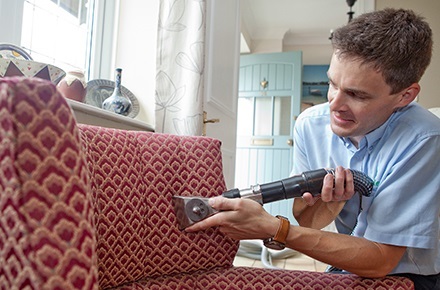 We trade on our reputation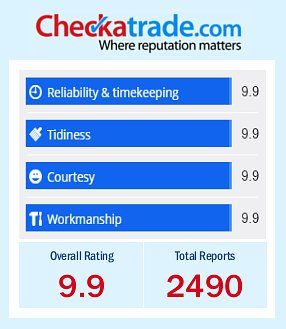 We are very proud members of the Check-a-trade scheme as it enables you to see certified and genuine reviews from past customers in and around Richmond.
You can also use it to provide your feedback. We have over 2400 reviews and an average score of 9.9 out of 10!
Find out more about Checkatrade >>
Give us a call us now on 0800 587 4571 to find out more about the cleaning services we provide to homes across Richmond and how we can help you.
My promise to you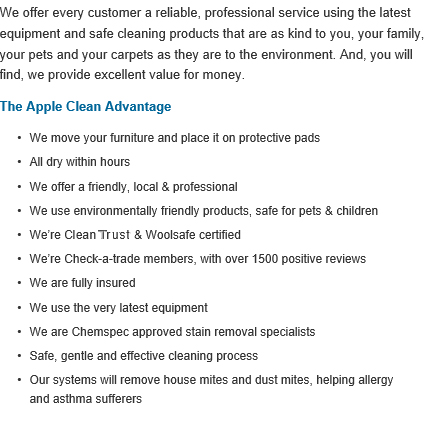 Cleaning services in Richmond
For all your fabric cleaning needs in and near Richmond, whether it's carpet cleaning, in-situ curtain cleaning, specialist fabric cleaning or stain removal, Apple Clean are the leading experts. We provide specialist cleaning services all across the South of the country and have done so for over 25 years.
We have a team of specialist cleaners on board who specialise in ridding fabrics of unwanted dirt and stains, applying fabric protection solutions and cleaning upholstery, leather, carpet and many other kinds of fabric. Their experienced approach to the job leaves you with minimal hassle and you can rely on their expertise to complete the service efficiently. You can rely on Apple Clean to have your furniture looking as good as new in no time at all.
Over the years we have managed to gather many happy clients as a result of our cleaning services. Many of them have expressed their delight with the results after we made use of our specialist cleaning techniques in their homes based in Richmond.
Our team of specialist operatives are extremely courteous and encourage a positive relationship with our clients so that we can answer your questions and provide you with the service you require. When it comes to the job itself, our team use gentle methods to remove stains and dirt from all sorts of different fabrics. We can even treat your furniture with a solution called Scotchgard which prevents your furniture from further staining in the future.
We take the same approach to both domestic and office environments in Richmond so make sure that you use Apple Clean when searching for in-situ curtain cleaning, carpet cleaning or specialist fabric cleaning in your office or home. Whether you're looking for cleaning assistance in your living room, an outbuilding or an office department area, the Apple Clean team are more than happy to work with your specific requirements in mind.
We always take great care when carrying out our services in order to prevent damage to surrounding furnishings and we won't have to remove anything from your property thanks to the efficiency of our service.
If you would like to find out more about how we can assist you with your cleaning requirements, get in touch with Jonathan today to get your quote. Our specialists are near Richmond if not working in Richmond already & we'd be delighted to hear from you.
Other Local towns we cover
Opening Hours:
Apple Cleaning Specialists
Monday: 8:00 a.m. – 8:00 p.m.
Tuesday: 8:00 a.m. – 8:00 p.m.
Wednesday: 8:00 a.m. – 8:00 p.m.
Thursday: 8:00 a.m. – 8:00 p.m.
Saturday: 8:00 a.m. – 8:00 p.m.
Friday: 8:00 a.m. – 8:00 p.m.
Sunday: 8:00 a.m. – 8:00 p.m.