What are the benefits of applying Scotchgard?
Accidents will happen, but when spills occur on expensive carpets or soft fabrics, it can be a nightmare. This is where Scotchgard comes in. Possibly the most effective and certainly the best known fabric protection product in the world, Scotchgard was developed by 3M as a professional stain repellent and water repellent.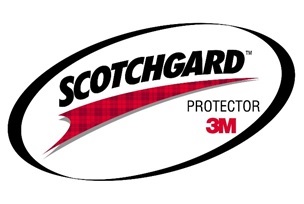 Most new carpets and upholstery will come with a layer of stain protection applied by the manufacturer, but this wears off over time, making your sofas, your carpets and your curtains much more susceptible to staining and soiling. In our professional opinion, prevention is always better than cure.
Scotchgard has taken stain prevention to a whole new level. It works by applying an invisible coating to the surface of the fabric which makes it harder for dirt and soil to become attached and thus prevents staining.
Here are 5 reasons why having a Scotchgard treatment is highly recommended every time you have your carpets, curtains or upholstery professional cleaned.
1 – Prolongs the 'freshly cleaned' appearance
If you love that just cleaned look and feel on your household fabrics, ask your upholstery and carpet cleaners to apply a Scotchgard treatment at every visit. Why pay for a professional cleaning service only to see the dirt returning all too soon? Scotchgarding will give you the peace of mind knowing that everything will stay cleaner for longer.
2 – Offers effective stain protection
With Scotchgard, a protective layer is applied to your carpets, upholstery and soft furnishings. Not only will this keep dust and dirt at bay, it will also shield your fabrics from a wide range of other types of damaging substances including mould and bacteria, as well as water and oil based stains.
3 – Makes it easier to clean up
The Scotchgard barrier makes it much more difficult for any dirt or spills to go deep into the fibres. Instead of soaking in, spills stay on the surface where they can be easily blotted, mopped up or simply vacuumed off. It's damage limitation at its very best.
4 – Extends the lifespan of your carpets and furniture
Using Scotchgard prolongs the life of your upholstery, curtains and carpets, particularly in high traffic areas of your home or office. The protective coating creates a barrier that guards against premature wear and tear, so you get more enjoyment out of your soft furnishings for longer.
5 – Saves money in the long run
In order to maintain your carpets, furniture and curtains in the best possible condition for as long as possible, we recommend applying Scotchgard at least once a year to get the optimum return on your investment. Why not contact Apple Clean today on 0800 587 4571 to schedule your regular cleaning visits and Scotchgard treatment?