Top tips for cleaning a leather sofa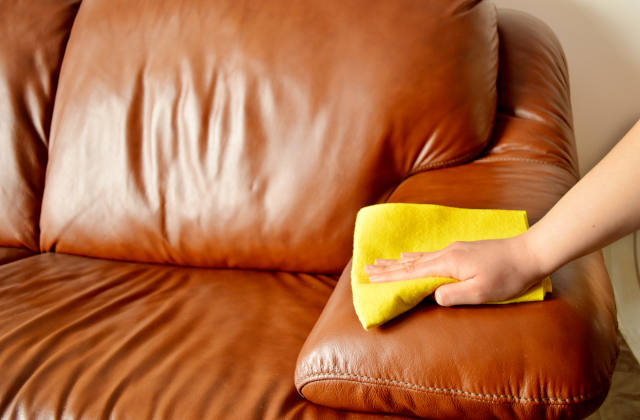 Leather sofas look fantastic, and luckily they are also easy to clean compared to standard fabrics. Cleaning your upholstery regularly can also help you get the most out of your sofa and can keep it looking great for years to come. If you don't know the best way to clean a leather sofa, don't worry! We've put together a quick and simple guide to help you out. Check out our top tips below.
Check your sofa – get rid of surface dirt!
One of the first things you should do is to remove any throws and cushions from your sofa. These are best washed separately in order to avoid any potential problems with the products used for a leather sofa. Next, check down the sides and under the sofa and cushions for anything like loose change, sweet wrappers and any rubbish. Once cleared, use a brush attachment to get rid of any crumbs. This will help to avoid scratching or damaging the leather.
Be prepared – always check the label
Most upholstery, including leather sofas, will have a handy label or a sticker that will let you know what cleaning products can be used on it. This is most likely to be on the underside, but could be found elsewhere. If it says "W", this means that you can only use a water based cleaner on the leather. "S" and "P" means that you can dry clean only. If you see "SW" and "WS", this means that either a water-based detergent, a solvent cleaner or a steam cleaner can be used. If you see "X", this means that the leather upholstery will need professional cleaning.
Once you've found out what can or can't be used, you can move onto cleaning the leather. One top tip for cleaning a leather sofa is to use saddle soap or a leather dew once a week with a soft cloth. This will help to keep your sofa in a good condition, as well as keeping it nice and clean!
How to clean your leather sofa
One of the best ways to clean a leather sofa is to use a slightly damp cloth with a little bit of soap. It is important to make sure that the cloth is not too wet though, as this will leave a water mark on your sofa. Another popular technique is to use white vinegar as a natural stain remover, using a mix of water and vinegar solution which is then cleaned up with water and a mild detergent to get rid of that vinegar smell once you're done.
Need help? Call the professionals!
Unfortunately, some stains are just too tough to clean, and trying too hard to get rid of them can damage the leather upholstery on your sofa. If you've tried the tips listed above but had no luck, it might be time to get help from a professional cleaning company. At Apple Clean, we have over 20 years' experience cleaning leather, upholstery and much more, and can deal with even the toughest of stains. Get in touch with us today on 0800 587 4571 for a free no-obligation quotation on leather sofa cleaning and more.