Scotchgard: Extra protection for your carpets, rugs and upholstery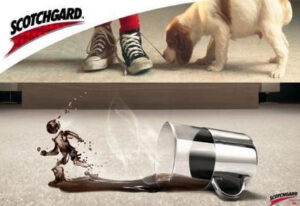 If you're having your carpets, rugs and upholstery cleaned professionally, wouldn't it make sense to add an extra layer of protection? We recommend a professional Scotchgard application as a first line of defence for the fabrics and soft furnishings in your home.
Scotchgard works as a soil retardant – it creates a liquid repellent surface layer on fabrics that provides unbeatable stain protection. For over 50 years, Scotchgard has proved itself to be the most effective stain protection and prevention system for home fabrics and furnishings.
It's a topical application, as opposed to an impregnating treatment. Unlike dip-treated fabrics which are immersed in a soil retardant, Scotchgard sits on top of the fibres, adding a highly effective layer of protection to your household fabrics and carpets without changing their colour or texture in any way.
Applying Scotchgard protects your soft furnishings and carpets against most common household staining such as food, coffee and soft drinks spills as well as normal wear and tear. It also provides an extra physical barrier against damage that can be caused by small children and pets. Even the damaging effects of red wine spillages can be mitigated.
Stains will come out quicker, making cleaning your upholstery, carpets and rugs easier next time round. What's more, Scotchgard will help your fabrics resist stains and dirt, meaning they stay cleaner for longer.
Scotchgard can be applied at any time but protecting new or freshly steam cleaned carpets and fabrics is the most prudent option. It dries almost immediately and can be walked on virtually straight away, and certainly by the time the carpet has dried.
Depending on the level of usage or foot traffic, Scotchgard protection can be effective for 6 to 18 months, when it will have to be reapplied. Why not make Scotchgarding a regular process every time you have your carpets and curtains professionally cleaned?
At Apple Clean, we can tackle any domestic or commercial Scotchgarding requirement. We have 20+ years' experience of working with Scotchgard products to protect your fabrics from everyday household spills and accidents, while enhancing the life of your carpets, curtains and soft furnishings. For specialist advice and a totally professional service, please give us a call today on 0800 5874571.