New curtains? Here's how to look after them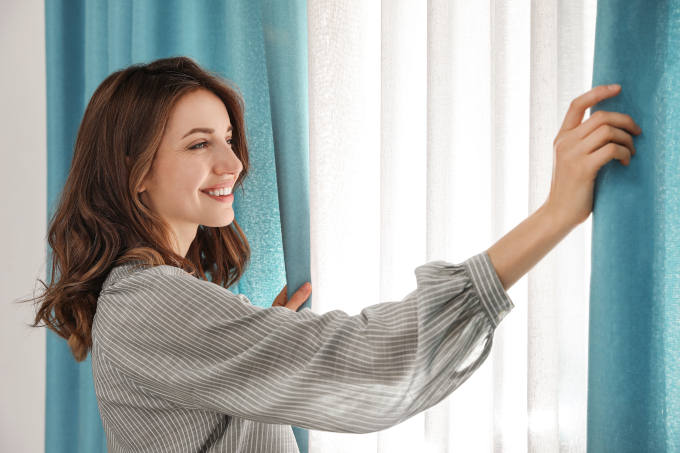 They say that the windows are the eyes of the home, and attractive window dressings are an essential element of any interiors scheme. If you've invested in new curtains for your living room or bedroom, it's important to know how to care for them. At Apple Clean, we know a thing or two about curtain cleaning and maintenance, so we've put together some useful advice to share with you.
Hanging new curtains
Whether you've bought your new curtains custom-made or ready-made, chances are they will come folded. A light iron may be needed to get rid of visible fold lines before you hang them, but do check the care instructions (or ask your curtain maker) for details of temperature and whether the fabric should be ironed on the face or reverse. Once your curtains are up, any remaining fold lines should drop out.
Hanging new curtains is best done with the help of a ladder and an extra pair of hands – there may be a lot of fabric to manoeuvre into position! Make sure the curtain fabric or lining does not come into direct contact with the window pane where there may be condensation.
With tape headed curtains, once all the hooks are in place, you need to pull the strings to get the desired curtain width for your window, and tease curtain pleats into position with your fingers once curtains are in situ. At Apple Clean, we would recommend fitting a track with a pull cord to avoid handling delicate fabrics including velvet.
Curtain maintenance
The appearance of your curtains can be materially affected by many factors, chief among them sunlight, dust and moisture. Dark coloured fabrics are more likely to absorb light, leading to colour fading over time. Blackout lining or additional window blinds may help.
Many people neglect curtain maintenance since they don't appear to get too dirty compared to other areas in the home. After all, they just hang there! However, curtains can hold a lot of dust and dirt that may be invisible to the eye but affect the air quality in your home.
That's why it is important to regularly clean your curtains to avoid the build-up of dust and dirt and keep them looking sharp for longer. You can use the brush attachment on your vacuum cleaner as an easy, efficient way to keep dust at bay – once a week is ideal, once a month should be the minimum.
How to clean your curtains
In addition to regular vacuuming, it is recommended that you give your curtains a periodic clean. Depending on the fabric, you may be able to wash them at home – either by hand or by machine – or get them cleaned professionally. Silk, for instance, is too delicate for a washing machine and could get damaged. Check the care label before you do anything rash – it's there for a reason. You wouldn't want your beautiful (and expensive!) curtains to become damaged through misadventure, would you?
Machine-wash your curtains with care. Check the recommended temperature for washing and drying. Treating fabrics with hot water can cause them to shrink – you have been warned. Delicate fabrics should be washed on a cold, slow cycle while coloured fabrics should be washed separately using a special colour care detergent. For the avoidance of doubt, never use harsh detergents, abrasive washing up powders or bleach.
Whether you hand-wash or machine-wash your curtains (depending on the care label instructions), rinse the fabric thoroughly and hang up the freshly cleaned curtains while damp, so they can air dry with minimum creasing. Any creases should drop out as the fabric dries, otherwise iron the material according to the care label.
Professional curtain cleaning
The safest way to look after your curtains is to have them professionally cleaned. This is an area where Apple Clean have been excelling for over 20 years. We offer in situ curtain cleaning for anything from large theatre curtains to domestic living rooms and bedroom curtains including linings, pelmets, swags and tails. We can deal with all types of fabric including those that are 'dry clean only'.
Better still, we come to you, cleaning your curtains at home without the fuss and bother of having to take them down and rehang them. Best of all, in situ curtain cleaning means no drying time, saving you both time and money.
If you are looking for professional advice on how to look after your curtains, Apple Clean is only a phone call away. We operate across the East Sussex, West Sussex and Surrey, so please get in touch for a free, no-obligation estimate.