4 reasons to vacuum your carpets regularly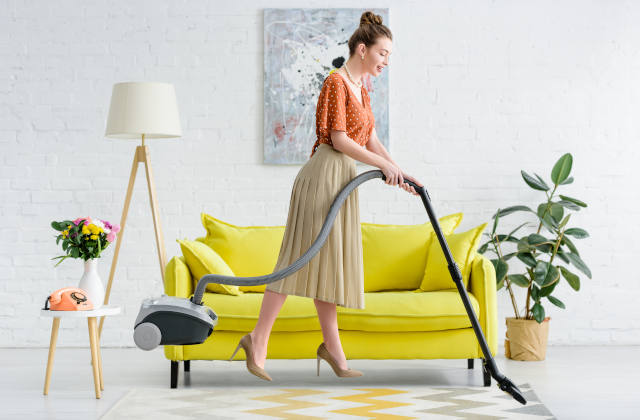 If you have fitted carpets in your home, it's important to look after them. Hoovering is the first step to keeping your floors looking great and smelling fresh. Give your carpets the attention they deserve and you will get years of enjoyment out of your investment.
Left unattended, carpets can quickly become dirty with dust, food particles, pet dandruff, hair, soil and all sorts of microscopic organisms. Given time, the dirt and debris not only reduce the lifespan of your carpet, it can even become a health hazard.
One of the most effective ways to keep on top of carpet care is to run a vacuum across all carpeted surfaces on a regular basis. Daily is ideal. Weekly is non-negotiable. Here's why:
1 – No household smells and nasty niffs
Regular vacuuming is essential to remove dirt from your carpet that may otherwise generate bad odours from rotting food particles and bacteria. You surely don't want your home to develop an unpleasant smell. Daily hoovering and regular professional carpet cleaning will ensure that your house will stay clean and smelling fresh at all times.
2 – Longer lifespan for your carpet
When dirt and debris accumulate deep within the carpet pile, the fibres are at risk of attack and decay sooner than you think. The trick to keeping your carpet or oriental rugs in good condition for the long term is to look after it well. Regular removal of dust and other particles that reach your carpet every day is key. Your hoover should be your best friend.
3 – A healthy, hygienic environment
A dirty, smelly carpet can lead to range of health hazards for you and your family. As with any dirty surface, your carpet can turn into a breeding ground for harmful bacteria, fungi and other microorganisms. Small children or elderly family members can be particularly vulnerable. Frequent hoovering is essential to maintain a healthy home environment.
4 – Protection from allergies
If there are allergy sufferers in your household, you should be extra vigilant with carpet hygiene. Microorganism can grow quickly, while dust and debris become airborne every time someone walks through the room. For those suffering from asthma or respiratory allergies, this can acerbate symptoms. The best way to prevent this is by regular vacuuming.
As you can see, there are many good reasons why you should vacuum the carpets in your home on a regular basis. Choose a good quality vacuum cleaner for the job. We found a very useful article to help you select the right one here.
Finally, don't forget to make regular carpet cleaning part of your routine. At Apple Clean, we recommend a twice yearly deep clean for best results. With over 20 years' in the business, we pride ourselves in personal attention and the quality of our work. Why not give our experienced carpet and upholstery cleaning team a call on 0800 587 4571 to get a free instant quote?