How to look after your velvet sofa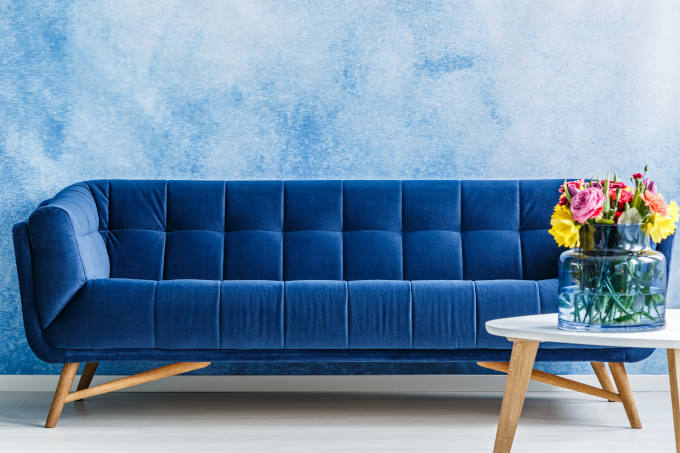 Velvet is one of the most sumptuous upholstery fabrics for use in the home. With its plush feel and luxurious sheen, it is surely the original glamour fabric. Having a beautiful velvet sofa or armchair will add oodles of style to any room, as interior designers know only too well. If you're after cosiness and elegance with a modern twist, you can't get better than velvet upholstery.
Cotton velvet crushes easily, which is why it is often mixed with a synthetic fibre to improve its resilience. Synthetic velvet (typically made from high quality polyester) is less prone to marking or crushing, holds the colours longer and has a longer lifespan. Make sure that your velvet sofa is protected from direct sunlight
How often should you clean your velvet sofa?
All upholstery in your home should be regularly cleaned and refreshed, regardless of the fibres it's made from. A regular cleaning regime helps to keep on top of dust and debris, removes lingering odours and prolongs the life of your furniture. Include your velvet sofa or chair in your weekly cleaning routine. Vacuum with an upholstery brush attachment to get rid of dust, crumbs, fluff and more, brushing in the direction of the fibres.
However, if a stain has appeared or an accidental spillage has occurred, you need to jump to attention straight away. Don't wait until it's cleaning day, act fast with stain removal: a stain that's left to dry out is much harder to tackle successfully.
How to clean your velvet sofa the right way
Velvet may look and feel beautiful but it isn't the easiest fabric to maintain. If you don't know how to look after your velvet sofa, it's easy to make expensive mistakes and end up ruining the surface.
The most important piece of advice we can give is to never rub at a stain. Instead, blot with a paper towel to soak up any liquid rather than risk spreading it around. Any dried material should be removed as much as possible with the blunt side of a knife, again taking great care not to rub.
Velvet can crease easily, which spoils its appearance. Use an upholstery steam cleaner, a handheld garment steamer or steam from an iron to set the fibres the right way, and then simply maintain the look with a dry brush in the direction of the pile.
Always test products on an inconspicuous area
Before you attempt to spot clean your velvet couch, always read the care label first. Velvet is a delicate fabric and many upholstery cleaning products are far too strong and can cause damage to the velvet surface. Always try any product on a small area of the sofa to see if it's safe to use.
The same goes for homemade cleaning solutions. Be very careful before you use traditional stain removers such as lemon juice, bicarb or soapy water as velvet can be exceedingly sensitive. Is it a risk worth taking? We would always recommend that you ask a professional for expert sofa cleaning advice.
Trust our professional cleaning experts
Why risk damaging your favourite sofa when we can expertly care for it on your behalf and protect your investment? For complete peace of mind to look after your velvet sofa or armchair, book a professional upholstery clean with Apple Clean.
We have 35+ years' experience cleaning a wide range of specialist upholstery fabrics including velvet, silk, satin and leather, with safe and effective cleaning processes to help maintain the colour and appearance of your velvet sofa and ensure optimum hygiene.