How to look after your bathroom carpets – Part 2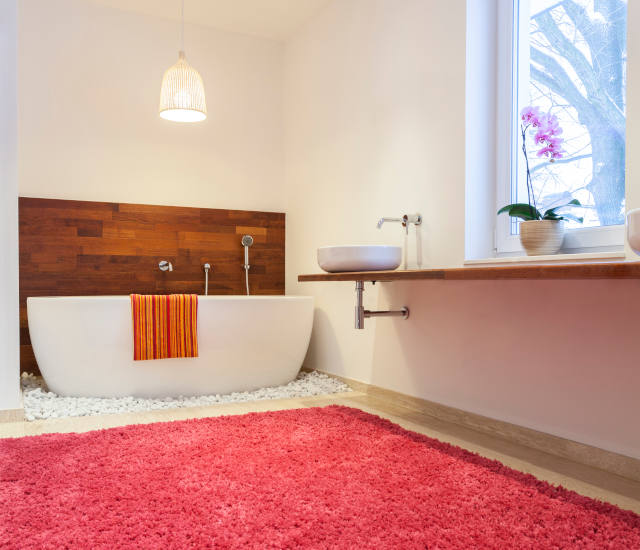 The bathroom is one place in your home where cleanliness and hygiene are non-negotiable so that a healthy environment is maintained for all the family. Like the kitchen, it should be cleaned frequently to prevent problems that can be caused by water or moisture, leading to potentially harmful germs and mould.
If you have a rug or carpet in your bathroom, you need to be particularly attentive, with a regular washing or cleaning regime to protect your family. We dealt with fitted bathroom carpets in our last blog, so this time let's focus on rugs and mats.
It goes without saying that different carpets may require different kinds of treatment, so it's a good idea to be vigilant.
If your carpet is in frequent use, and is damp a lot of the time, you should wash it every week. Mould and mildew can grow easily in moist conditions.
Check the care label on the rug to see if it is machine washable. If so, wash it either on its own or together with some towels to balance the load.
After machine washing, leave your bathroom carpets and rugs to air dry. An outdoor washing line on a sunny day is best.
Unless the care label says otherwise, you can also tumble dry heavy bath mats and rugs. However, those with rubber backing and adhesives should not be machine dried.
Rubber backed rugs or carpets need careful handling and shouldn't be washed in hot temperatures, since the rubber backing will deteriorate more quickly. Wash once every few weeks in cold water.
Oriental rugs can look striking but use with care since these floor coverings are not made for a bathroom environment. Vacuum and air regularly and get them cleaned professionally.
Finally, we've put together three handy, quick and effective deodorising tips that you can use between washing to keep on top of nasty bathroom smells in your carpet:
Mix white vinegar and water in a 1:1 ratio and decant into a spray bottle. Apply to any smelly areas, leave to dry for a few minutes, then clean with warm water.
Mix water and fresh lemon juice in a ratio of 1:1 and apply to the affected carpet area. Leave for 15 minutes and clean with a sponge. You'll be left with nothing but a lovely citrusy aroma.
Sprinkle some baking soda onto the rug or carpet and leave overnight. In the morning, apply some white vinegar and wash the area with warm water.
For professional advice on rug cleaning and carpet cleaning anywhere in your home, along with a free instant quote, please contact Jonathan at Apple Clean on 0800 587 4571.