Handy Tips: Rug Cleaning 101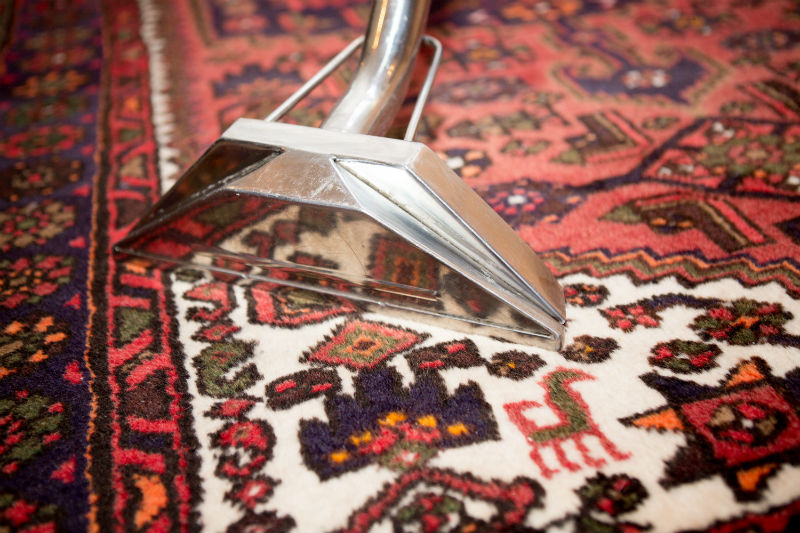 Rugs are an easy addition to any interior, and they can really add something extra to your style and décor. There's a wealth of choice out there in all sizes and types of materials including valuable oriental rugs that deserve special treatment. But what do you do when it comes to cleaning?
Rugs are notorious for attracting dust and dirt. Weekly hoovering and a good shake-out may not be enough to keep your rugs looking smart. At Apple Clean, we have 20+ years' professional experience of rug cleaning. We always use gentle, environmentally friendly cleaning products that not only give outstanding cleaning results but are safe for your family and pets.
We've put together a handy guide with useful tips on how to look after the rugs in your home.
Cleaning polypropylene rugs
Polypropylene rugs are one of the most affordable choices on the market. There's a vast range of designs to choose from, they're durable and easy to clean with regular carpet shampoo. Make sure you follow the manufacturer's instructions and test a small inconspicuous patch for discoloration first.
If your home and the weather allow, clean your rug outside and hang it on the washing line to fully air dry. For indoor cleaning, we recommend doing this in the bath tub, then leaving the rug to dry in a well ventilated room. Finally, apply fabric spray to keep the rug fragrant, if the material allows it.
Cleaning wool rugs
Wool rugs are a popular investment purchase. They may cost more but the natural fibres are hardwearing and hold their colour well. However, cleaning a wool rug is not for the faint hearted. Start with a good vacuuming and shake-out, then mix up a bucket of cold water with a capful of gentle, non-bio wool detergent. You can also use a specialist wool carpet shampoo.
Dampen a white microfibre cloth and dab the rug, going in the direction of the material. Heavily soiled areas may need more attention but be careful not to overwet the rug – you want to keep it feeling plush and full.
Next, fill a bucket with clean water and repeat the process with a fresh white cloth. Use a dry microfibre cloth or a towel to blot the rug, removing as much moisture as possible. Leave the rug to dry completely before you walk on it. You could hang it up or use a fan or hairdryer to accelerate the drying process.
The above method can also be used for cotton rugs.
Cleaning deep pile rugs
The process for cleaning a fluffy or shag pile rug is similar to cleaning a wool rug, however, dry shampoo may be used instead of water and detergent. Sprinkle the dry shampoo on the rug and work it into the fibres with a cloth. After about 2 hours, thoroughly hoover the deep pile rug to remove the dry shampoo. If the pile is longer than 5cm, hoovering alone won't suffice – you will need to shake the rug out as well.
Cleaning viscose rugs
Check the rug label on the back to see whether the rug is made from viscose. These rugs deliver great sheen and are becoming more and more popular. However, cleaning a viscose rug may be tricky as the material easily discolours if it gets at all damp, so beware! A better option is to use a gentle brush with soft bristles to remove dirt and dust, and to blot any spillages with a white cloth to absorb stains.
Cleaning jute rugs
Jute and other natural fibre rugs are a popular choice for relaxed living. The style works well with wooden floors or earthy toned carpet too. Importantly, you should know that jute rugs and water really don't mix. When cleaning a jute rug, use dry shampoo or another dry cleaning method – same as for long-pile shaggy rugs.
Cleaning outdoor rugs
As a result of their location, outdoor rugs can get dirty more easily. However, these rugs are extremely hardwearing, meaning you can be a bit more robust with your cleaning regime. Hang your outdoor rug on a washing line and beat with a broom handle or traditional carpet beater to get rid of most of the debris. Next, use a garden hose and wash your rug in cold water. Leave to airdry outside and voila – good as new.
Contact us
Apple Clean have over 35 years' experience in the carpet and rug cleaning business. Whatever your rug cleaning issue may be, please feel free to give us a call on 0800 587 4571 and we will happily share our professional advice on how best to tackle the problem and give you an instant quote. We work all over Surrey and Sussex including Brighton, Chichester, Worthing, Horsham and Guildford.