Fireproofing your fabrics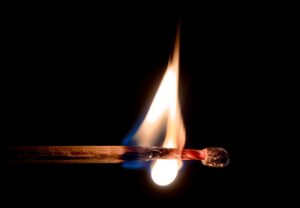 For obvious fire safety reasons, fabrics used in many public places such as educational establishments, medical facilities, churches, places of public entertainment, prisons etc are required by law to be certified as flame retardant.
Strict fire retardant standards and regulations are in place for both domestic and contract fabrics, such as curtains and upholstery. These textiles are routinely tested to make sure they are safe for use in homes and commercial settings to eliminate unnecessary fire risks, and are fire resistant labelled for specific purposes.
British Standard 5852:2006 applies to textiles used to upholster furnishings for the home, such as sofas and chairs. The fabric is tested to ensure that a flame from a lit cigarette or match would not ignite the material.
British Standard 5867 applies to curtain fabric, which is tested for flammability by establishing whether the flame reaching the highest or lowest edge of the material catches fire and spreads.
British Standards 5438, BS 5852:2006 and 5867 apply to flame retardant, vertically hung curtain fabric testing.
Fire retardant fabrics may be certified as FR (Fire Retardant), Inherently Fire Retardant (IFR) or Permanently Fire Retardant (PFR). FR fabrics are post-treated with a chemical fire retardant, which will leech out over time as a result of washing or dry cleaning; these textiles will need to be retreated in due course. IFR and PFR fabrics have been woven from fibres that are intrinsically non-combustible, meaning that their fire retardant properties will not be diminished by cleaning, but last a lifetime.
If you are not sure about the safety of upholstery and curtain fabrics and textiles in your business or home, call Apple Clean for professional advice. With over 25 years' industry experience, we offer a wide range of specialist fireproofing services for curtains and upholstery that meet strict local authority standards and are available for all types of commercial premises including schools, village halls, nursing homes, theatres and cinemas.
Flameproofing can be applied in situ to minimise any disruption to you, and can be carried out together with curtain, carpet and upholstery cleaning. To make sure you are safe and in compliance, call us today on 0800 587 4571.