Easter Holiday Preparation & Cleaning Tips
The Easter Holidays are underway, so there's never been a better time to start preparing for the weekend celebrations. Whether you need to do some thorough dusting around the house or just come up with some decorative ideas for the event, you can make the most of our advice here at Apple Clean to make your Easter a fun, bright and uplifting occasion.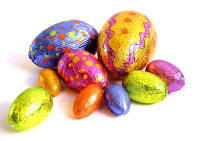 Start by cleaning your upholstery, especially if you are expecting guests for the Easter weekend. Next, get to work on the carpets and curtains before carrying out a thorough dusting of all the tables, desks, shelves and mantelpieces. A traditional Easter egg hunt throughout the property is something many families like to do, so make sure that every nook and cranny around the house is dealt with to protect the younger ones from dirt and dust particles.
Try and arrange the home to represent the Easter festivities. You could incorporate some colourful flowers to represent the spring season or create baskets of decorated eggs to symbolise the start of new life. The decorating process might also involve a little bit of reorganising to make the home look great for any potential guests, so make sure you've dedicated some time to carpet cleaning, vacuuming every last piece of originally covered carpet.
Once Easter Sunday arrives, the atmosphere may well resemble that of a standard family gathering. However, you'll have plenty of other things to deal with once the weekends over, including the vast amounts of chocolate wrappers and even chocolate stains on the floor and upholstery. Getting rid of tough stains can be quite a nuisance, so if chocolate does melt after being trapped underneath cushions, try and deal with it as soon as possible.
Also consider outdoor Easter egg hunts and children bringing mud back in from outside, especially on rainy days. To combat this, place a mat at the entrance to the back door for children to scrape their shoes on. Finally, if you plan on making some Rice Krispies or Cornflake cakes with your child, you might need to clean the kitchen thoroughly before you start. You'll need to use the oven hobs to melt the chocolate, so make sure these are thoroughly cleaned before use.
If you're going to be entertaining over the Easter period and want to take the opportunity to get your home sparkling with some Spring cleaning then why not get in touch with Apple Clean and we'll be happy to offer you the benefit of our expertise.