10 Happy New Year Tips for #BackToWork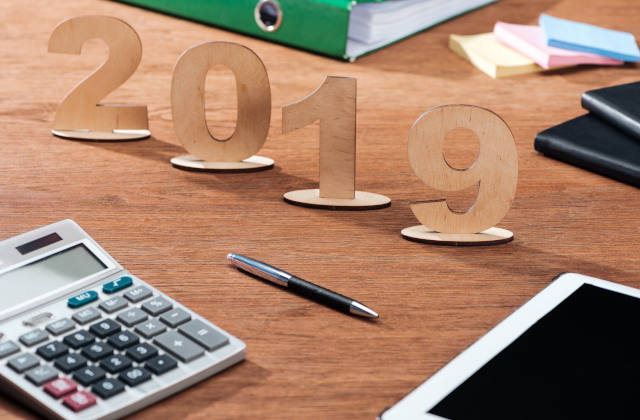 With Christmas firmly behind us, forget about the festivities, the mince pies and the mulled wine. It's time to adjust back to normality. Why not embrace the New Year with an office blitz and an energy switch-up to kick 2019 off to a good start. Here are 10 recommendations to get you going.
First off, get rid of the Christmassy atmosphere – glitter is so last year! Fold away that sad looking Christmas tree and return it to the cupboard ready for next December. De-tinsel the office and ditch the decorations. Take down all the Christmas cards and put them in the recycling.
Why not start the year with fresh energy in a nice clean office? If your premises are stale, grubby and uninspiring, you'd be surprised at the difference a thorough office clean can make. Ask Apple Clean about carpets, curtains and upholstery cleaning, stain removal and more.
Check the kitchen for leftover mince pies, chocolate liqueurs and half-empty bottles of Baileys. No-one will thank you if you hand them around the office now that everyone is on a January detox. Better still, invest in new, healthy additions to your office kitchen. A water cooler? Daily fresh fruit for everyone? A juicer?
Ban Christmas jumpers and novelty gifts, festive tunes, cinnamon scented candles and anything else you can think of that doesn't belong in the New Year. You're looking forward, not back. And while you're at it, take down the 2018 wall calendar and get out the 2019 diaries and motivational pictures to inspire everyone at work to look to the year ahead.
Take a good look around the office and ask yourself honestly: is the environment conducive to working at maximum efficiency and productivity? Does it exude an air of calm professionalism? It's always easier to see after a few days away from the workspace. If the area is littered with defunct IT equipment, storage boxes full of papers or other detritus that doesn't belong there, you should think about decluttering.
Similarly, it's a good discipline to start the year with a tidy desk and work space. Spend just an hour this week to get organised and you will reap the rewards for the next 12 months. The same goes for your computer – now is a good time to sort out your inbox and your hard drive, back up your files and streamline your filing system.
Now that you can see clearly, think about adding positive accents to your office that can make all the difference between dreading or looking forward to a day's work. Fresh flowers or house plants perhaps? New keyboard? Spotify Premium? No matter how small these touches are, they can be immensely motivating to you and the rest of the staff.
Spread a little happiness. Be nice to your colleagues. Take some time out to have a catch-up chat, ask about their Christmas and exchange holiday news. It doesn't take long to reconnect with colleagues and re-establish the bond that holds the office together.
Thinking of office morale, how about planning something the whole team can look forward to? A corporate day out in the summer perhaps? Charity engagements? Training and career development opportunities? Some companies opt to have their annual dinner in January – without the crackers and silly hats of course.
New Year's resolutions aren't everyone's cup of tea, but goal setting in a work context is certainly worth doing. Whether you have an HR department to organise this for/with your executives or you simply all sit around the board table and talk about your plans for the year ahead, now is a good time to re-engage every member of your team. Time to focus and get back to work.
At Apple Clean, we wish all our customers a happy and prosperous 2019.