How often should you clean your curtains?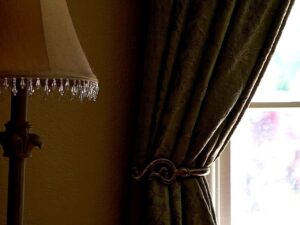 Curtains naturally attract dust and absorb odours over time. And as easy as it is to overlook the fact that they need attention – after all, they just hang there! – curtain cleaning on a regular basis is a good idea to keep your house clean and fresh – every 3-6 months is recommended.
Machine washing
If your curtains are fully machine washable (check the label), you can do the job yourself. Pick a nice warm summery day to let them dry in the open air after they've been through a gentle machine wash cycle. Iron your curtains while they're still a little bit damp, then hang immediately to eliminate creasing.
That said, curtains contain a lot of fabric, which often makes them unwieldy to deal with in a domestic environment. If you're worried about your washing machine drum not being big enough, your ironing board being too small or you have nowhere to dry your curtains, you may be better off getting professional help.
The same goes for stained curtains – leave it to a professional curtain cleaning company such as Apple Clean to remove stains from fabrics without the risk of damaging your precious curtain fabrics.
Dry cleaning
Curtains that are made of linen, silk or other sensitive fabrics will need professional dry cleaning, since the hot water, detergent and constant rubbing action in the washing machine can easily cause damage such as shrinking or fading. Curtains can be an expensive investment for your home, so it's important to look after them to give you years of pleasure.
Damage can also be caused by beading or embroidery on the fabric; Apple Clean have the expertise and experience to deal with these type of materials sympathetically while getting the best cleaning results.
Instead of taking your curtains down for cleaning, why not ask Apple Clean to clean them for you in situ? Providing the ultimate in convenience for you, we offer in situ cleaning for all large variety of curtains including interlined curtains, thermally lined curtains, pelmets, stage curtains and commercial curtains, as well as all types of blinds. Without the fuss of taking them down and rehanging them, curtains are cleaned effectively and with no drying time.
Regular curtain cleaning
While cleaning your curtains every 3-6 months should be sufficient for most household requirements, we would recommend more frequent cleaning if the following factors play a part:
Dust: Do you live in an urban area, near a main road or in a particularly dusty area? Don't forget that your curtains act as a filter for dust and other airborne particles coming into your house through the windows. If you live in a dusty environment, you should clean your curtains more often.
Allergies: Curtains can trap a variety of common allergens including dust, pollen, mould spores and pet hair and dander. If you or a member of your family is an allergy sufferer, frequent curtain cleaning should be an essential part of your household routine.
Mould occurs in damp conditions, particularly during winter. It can permanently damage the curtain fabric as well as trigger allergies. If mould is a problem, do make sure that the cleaned curtains are completely dry (and preferably hot ironed too!) to make sure all mould spores have been eliminated before the curtains are rehung.
Smoking: Smoke particles from cigarettes, cigars and pipes are easily trapped in curtain fabrics. If you're not keen on yellowing curtains or the smell of stale smoke in your house, make sure you let in plenty of fresh air and clean your curtains every month if possible.
Salt: If you live by the seaside and especially if you have sea views, salt is not your friend. Salty sea air deposits can affect curtains as well as window panes. Hard wearing curtain fabrics are your best choice under these conditions, and frequent cleaning is a must.
For any enquiries regarding curtain cleaning and blind cleaning, please contact us for a highly competitive quote on 0800 587 4571.