How do you clean a suede sofa or armchair?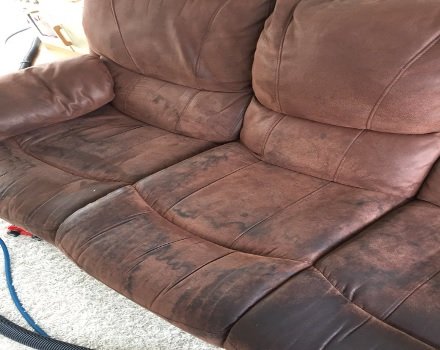 If you are the proud owner of a suede sofa or armchair, you will no doubt agree that suede is a beautiful and luxuriously soft upholstery material. However, it does have a bit of a reputation for being difficult to maintain. The good news is that if you follow our professional advice, cleaning and removing stains from suede doesn't have to be a problem.
1 – Refreshing your furniture
If your suede sofa or armchair has got a bit grubby, it's quite a straightforward to job to freshen up your suede upholstery. Wipe the surface with a damp cloth to remove surface dirt and dust without getting the suede material wet. Make this a regular part of your cleaning routine to keep your suede furniture in top condition.
Professional upholstery cleaners would never use water, shampooing or steam cleaning methods to clean water-sensitive materials such as suede. Instead, there are specialist dry cleaning procedures that will get the job done safely and efficiently.
2 – Removing stains from suede
For stain removal from suede, make sure you use a specialist cleaning product designed for suede. But before you use ANY product on your armchair or sofa, you must always test it first on an inconspicuous area to check that it won't cause any damage. Leave it on for about 20 minutes and once you're sure that the product is safe to use, follow the product manufacturer's instructions.
If you don't have a specialist suede cleaner to hand, white distilled vinegar diluted in water can be used as an alternative. Again, you should test it on a hidden area first. Whatever suede cleaning product you use, ensure that you blot the area dry after the stain has been removed.
3 – Removing wet stains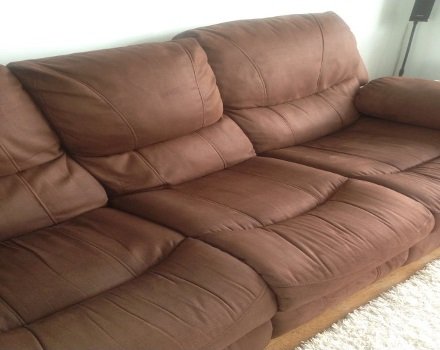 You should know that suede is especially sensitive to moisture, and liquid can cause real damage to this gorgeous material. If there's been food or drinks spill onto your suede armchair or sofa, you need to act fast.
First, gently blot the spot with a kitchen roll to soak up as much of the stain and moisture as possible. You can also use a slightly damp cloth to blot any residue. If necessary, apply a stain treatment immediately and according to the manufacturer's instructions. Leave it for a few minutes and 'rinse' the area carefully with a clean, damp cloth, making sure to keep moisture to a minimum. It can help to dry the area with a hairdryer.
4 – Treating old stains
The best way to remove an old stain from your suede sofa or armchair is to use a rubber eraser or suede cleaning block and rub the area gently. Once the stain has gone, use a soft brush to remove the excess dirt from the area.
Bear in mind that some stains, such as ink or crayon, will be hard to remove. If you are struggling with such a hard-to-shift stain on your suede sofa or upholstery, your best course of action is to contact a professional leather cleaning company such as Apple Clean to deal with the tricky stain.
5 – Brushing suede upholstery
Regular gentle brushing is an excellent way to keep your suede looking immaculate, and it's essential maintenance if you have a cat or a dog.
For stain removal, once you've cleaned up any spills and removed any marks, wait for the area to dry completely, then give it a brush with a soft suede brush. Use gentle circular brush movements while applying a little more pressure on the relevant area that's just been treated.
Contact Apple Clean
Apple Clean provides specialist suede and leather cleaning services for homes and businesses in the South East. We have over 35 years of experience in upholstery, curtain and carpet cleaning, with excellent results and countless happy customers.
Call us today on 0800 587 4571 for expert advice on how to clean your suede armchair or sofa, obtain an instant quote and book an appointment. Alternatively, send your enquiry via our website and we will be in touch as soon as we can.