Midhurst carpet, curtain and
upholstery cleaning services
Apple Clean are the Midhurst carpet, curtain and upholstery cleaning
professionals. Working locally for over 25 years, we've earned a reputation
for high-quality carpet, curtain and upholstery cleaning in Midhurst.
For domestic and commercial stain removal and carpet, upholstery and
in-situ curtain cleaning in Midhurst, contact the expert cleaning company
committed to delivering a personal, first-rate service: Apple Clean.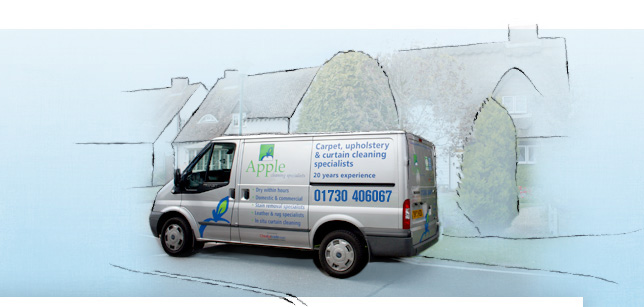 Give Jonathan a call

Hi, I'm Jonathan and for over 25 years I've been supplying carpet, curtain and many other cleaning services to homes and businesses in and around Midhurst. My beliefs have always been that the best way to success with a local business is to offer an exceptional service which is both professional and personal, giving great customer service and achieving excellent results. Give me a call today and I'll explain what we can do for you and I'll give you honest and realistic advice. At the same time you can get an instant no-obligation quote.
What our customers are saying…
Carpet and upholstery cleaning. – Combined Score: 10 out of 10

"We were very satisfied."

Customer in Midhurst

Hall and wc cleaned. – Combined Score: 10 out of 10

"Quick, clean and efficient, pleasant."

Customer in Midhurst

Cleaning. – Combined Score: 10 out of 10

"The service was excellent. No complaints at all. Would use the service again."

Customer in Midhurst

All carpets cleaned. – Combined Score: 10 out of 10

"Blooming brilliant!"

Customer in Midhurst

Bedroom carpet cleaned and restored following water leak. – Combined Score: 10 out of 10

"Jolly good, took time and trouble to achieve best possible result."

Customer in Midhurst
Why Choose Apple Clean?
Safe, Gentle & Environmentally Friendly Products
Chemspec Approved Stain Removal Specialists
Furniture is Protected & Moved with Care
Carpet, Curtain, Leather & Upholstery Cleaning
Get a FREE quote today!
Request a no-obligation free quotation from Jonathan
Call us on 01730 406 067 or complete the form below:
"
We trade on our reputation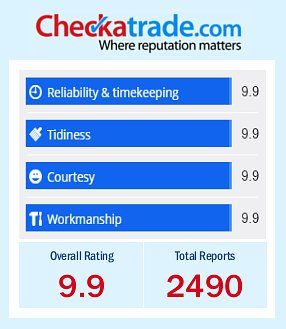 We are very proud members of the Check-a-trade scheme as it enables you to see certified and genuine reviews from past customers in and around Midhurst.
You can also use it to provide your feedback. We have over 2400 reviews and an average score of 9.9 out of 10!
Find out more about Checkatrade >>
Give us a call us now on 01730 406 067 to find out more about the cleaning services we provide to homes across Midhurst and how we can help you.
My promise to you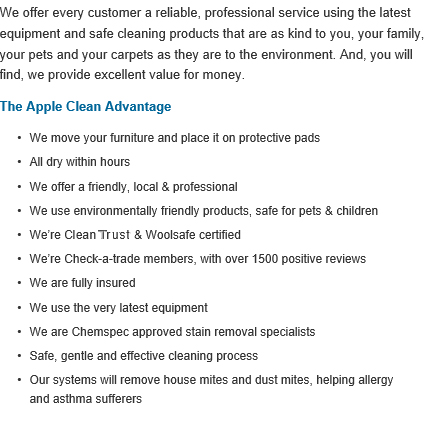 Cleaning services in Midhurst
Apple Clean is regarded by many in Midhurst and throughout West Sussex as a name that can be trusted when it comes to carpet cleaning, stain removal, specialist fabric cleaning and in-situ curtain cleaning. We have provided exceptional services in Midhurst for over 25 years and have managed to build an impeccable reputation amongst our clients in and around West Sussex. We are a reliable, courteous and highly professional company who exceed client expectations and look to provide the best possible services when called upon. We are more than capable of fulfilling your requirements when it comes to specialised carpet, fabric and curtain cleaning and we welcome any potential enquiries.
No one likes having to deal with a tough stain or an abundance of dust particles building up in their homes or offices. When our clients have attempted to rid tough stains in particular from their fabrics, they face the potentially devastating consequence of damaging their carpets, curtains or furniture even further. We encourage our clients to make the most of our specialist training and treatment methods that are certain to provide exceptional results. We use the latest high-tech equipment and specialize in carpet cleaning in particular. You can also trust our highly trained operatives to carry out an efficient, tidy job that suits your requirements.Removing a stain from a carpet or from specialized fabric is a delicate process and requires an extremely high standard of care and precision. Thankfully, our operatives provide an outstanding service, taking your personal belongings and surrounding furniture into account. They will also take extreme care when working with your fabrics to avoid any further damage. We also provide a contemporary form of treatment that protects your fabrics from further damage.
We feel strongly about the safety of our clients and their personal space, therefore we take necessary precautions to remove hidden allergens and dust particles from certain fabrics in offices and homes. It is vitally important that a healthy atmosphere is maintained and we thrive upon keeping our clients safe from potential threats in their work or home environment.
Contact Jonathan today for a free quotation. We have continued to earn rave reviews from previous clients and remain one of the most highly reviewed fabric cleaning companies on Checkatrade. We hope to continue providing the highest level of quality service to our clients in Midhurst and welcome any future enquiries.
Other Local towns we cover
Petworth
Fernhurst
Easebourne
Cocking
Duncton
Lodsworth
Graffham
Opening Hours:
Apple Cleaning Specialists
Monday: 8:00 a.m. – 8:00 p.m.
Tuesday: 8:00 a.m. – 8:00 p.m.
Wednesday: 8:00 a.m. – 8:00 p.m.
Thursday: 8:00 a.m. – 8:00 p.m.
Friday: 8:00 a.m. – 8:00 p.m.
Saturday: 8:00 a.m. – 8:00 p.m.
Sunday: 8:00 a.m. – 8:00 p.m.