QUOTATIONS AND PRICING
Can you give me a quotation over the phone?
A: Yes we can, we can survey if required.
Will the price change on the day?
A: NO we will never charge you extra for pre-clean, deodoriser, deep-clean, pre-spray, stain treatments, these are all part of our service.
This is something to be aware of when getting quotes. The only extra services we offer are stain protection and moth treatments and any other items.
How much will it cost?
A: Our prices are very reasonable and competitive for the top quality service we offer and we can give you a quotation over the phone.
How do I pay?
A: You can pay by card, cash or cheque. Payment is on completion of the cleaning.
Will you beat your competitor's prices?
A: We provide exceptional value for money and our price does not change on arrival and we are very competitive for the service we offer. We offer a price promise if our competitor's service is a high quality service like ours.
Our prices include pre-spray, deodoriser, stain removal and it is a deep clean.
Some of our competitors charge more for these but they are an important part of the service so it would be difficult to match their pre-arrival price.
STAIN REMOVAL
Can you remove stains?
A: Our technicians carry a full range of stain removers from the most highly regarded chemical brands in our industry.
We can treat a large variety of stains including: tea, coffee, red wine, food stains, blood, ink , oil, urine and many more.
Our technicians have been trained in the various techniques for removing stains from a variety of different fabrics. Stain removal is a science when completed properly.
The results can vary depending on age, fabric composition, whether your fabrics have stain protection and many other reasons. If we cannot remove your stain it means it is permanent.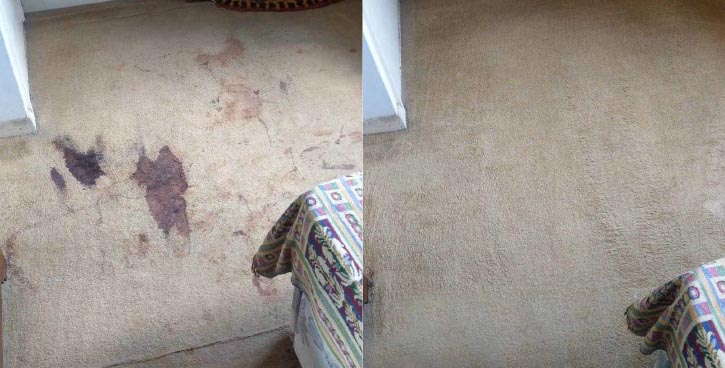 Can you apply stain protection treatments?
A: Yes we can at a very reasonable extra cost.
THE SERVICE
Can you clean without me being at home?
A: Yes we can. Please contact us so we can discuss your requirements.
What equipment do you use?
A: We use a variety of methods depending on the item to be cleaned. Our main method of cleaning is 'hot water extraction (sometimes referred to as steam cleaning) and we use the most up to date machinery. This method is highly successful and will rinse, agitate and extract the soiling and staining at a very high power from your fabrics. Delicate fabrics and curtains can be dry cleaned in-situ whilst they are hanging.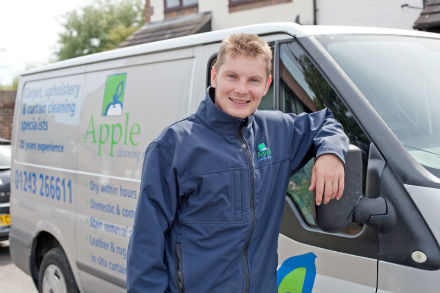 Is the cleaning safe for children and pets?
A: YES. All our main cleaning products are eco-friendly and safe for children and pets without compromising quality.
How long will the cleaning take?
A: This will vary depending what you are having cleaned, Please contact us and we can discuss your requirements and give you an estimate of time.
How soon can I use the items after cleaning?
A: Your carpets and rugs will be left slightly damp and can be walked on immediately. Upholstery drying times will vary due to soiling, staining levels, humidity, ventilation and temperature. We can use our turbo dryers to help this process whilst we are cleaning your upholstery. Curtains and dry clean items can be used immediately.
How soon can I vacuum after cleaning?
A: You can vacuum once the carpet is dry but this will not be necessary until you next regular vacuum.
How often should I have my carpets cleaned?
This all depends on the useage and whether you have pets and children. The average is every 1 to 2 years.
Can you clean leather?
A: Yes. We are leather cleaning specialists and can clean all types of leather upholstery. We can also offer retexturizing and protection treatments for leather.
Does you cleaning help allergy sufferers?
A: Yes our cleaning system removes house mites and dust mites helping allergy and asthma sufferers.
How do you clean curtains?
A: We dry clean curtains in-situ whilst they are hanging saving you the hassle and the time of taking them to a dry cleaners. Our prices for this service are very competitive.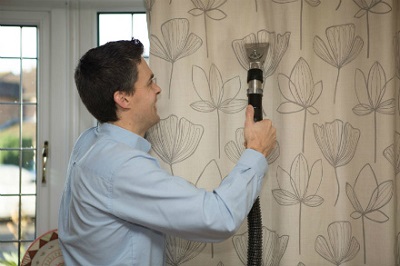 Do you do infection control treatments?
A: Yes we can treat areas contaminated with infections and viruses with our specialist products and equipment.
Can you clean wool?
Yes we are 'woolsafe approved' specialists.
GUARANTEE AND PEACE OF MIND
How many years' experience do you have?
A: We have over 30 years' experience.
Are you fully trained?
A: Yes we are. We are fully trained members of the 'National Carpet Cleaners Association' (NCCA). WE are also 'woolsafe approved' technicians and chemspec stain removal specialists.
Our technicians also go through an intensive in house training.
Are you fully insured?
A: Yes we are. We have both public liability and professional indemnity.
Is there a risk of shrinkage?
A: We thoroughly pre-test your fabrics prior to cleaning to eliminate any risks.
Do I have to move all my furniture before your visit?
A: NO you don't. We would ask that you move all your smaller items and breakables to make it easier for our technician to move any furniture which is possible to move. These items will then be placed on special blocks or pads to avoid rust marks and dye transfer whilst your carpets are drying. Larger, heavier items can be cleaned up to.
Do I need to vacuum before you arrive?
A: It would be helpful but not necessary.
Do your technicians carry ID?
A: Yes they have an Apple ID card with them.
Can I send you photos of my items to be cleaned?
A: Yes we offer a free advice service. You can e mail us your photos and we will give you an honest opinion of the results you can expect from cleaning.